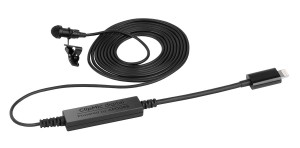 Apogee's innovation in the realm of mobile audio recording has been tireless. They seem to be betting that many podcasters, YouTubers and even self-recording musicians are coming to view even a rig comprising of a laptop, small audio interface and USB mic as burdensome.
Being able to record pro quality audio on an iPhone or iPad is great, but without a tiny, true pro quality mic it didn't make as much sense to transition into a micro-sized recording setup.
Of course for the film/TV production crowd that has relied on lavaliers for years, this fully digital route is simply more convenient as a separate audio interface is no longer needed.
Enter Apogee's ClipMic digital and MKE 2: an entry level and high-end lavalier respectively. This is essentially Sennheiser's lavaliers with a 24-bit/96 kHz converter by Apogee and lightning connector at the end.
Both models have identical specs in many respects. They work with a large range of iOS devices such as iPhone 6, iPhone 6 Plus, iPad Air 2, iPad Air, iPad mini. You can record at up to a 24-bit/96 kHz sampling rate with any iOS app that allows it.
The difference is the mic capsule. The ClipMic uses a Sennheiser ME 2 capsule while the MKE 2 uses, you guessed it, a MKE 2 capsule.
The price gap is substantial, with the ClipMic currently retailing for $199 and the MKE 2 for over double that cost at $499.
For film/TV production professionals or journalists that may set up in possibly harsh environmental conditions, the MKE 2 is the right choice due to its superior membrane. For a larger proportion comprising of podcasters, YouTubers, etc., the ClipMic will hold up just fine for general use.
Now we come to the comparison you've likely been wondering about all along. How does the sound quality differ between the two?
Make no mistake, the MKE 2 isn't just tougher, it does indeed sound better. The ClipMic's sound has been described as hyped in the highs or bright, while satisfactory for the low price point. The MKE 2 is no compromises mic, with richer, fuller sound and the ability to create better dimension in the sound due to better omnidirectional technology.
The Verdict
All but the pickiest interviewers, podcasters and YouTubers should be happy with the great value and above average abilities of the ClipMic.
The MKE is tough and sound-wise the omnidirectional performance takes you into its world with more detail and dimension. However in applications other than film/TV or music production those advantages wouldn't give you as great a return and won't be worth the price leap for many.