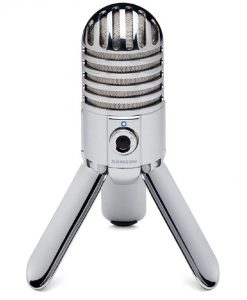 I'm often amazed that manufacturers can price certain USB mics so low. A decade ago even on a shoestring budget you'd be looking at a few hundred for a mic and audio interface. And that is what a USB mic really is: a one-channel audio USB interface and mic built into one device.
The Blue Snowball has garnered much attention due to its quirky design, versatility and incredible value. The Meteor Mic seems to be Samson's answer to it, as it's similarly priced and has vintage look all it's own.
Standing only 6 inches high with the legs extended, this is a good mic for your portable laptop or iPad rig.
The super reflective chrome body includes a fold-back leg design; I really this appreciated for portability since you don't have to fold and pack a stand separately.
A killer feature absent from its competition is the threaded stand attachment. You'll be able to mount it to any standard mic stand making positioning for acoustic instruments, guitar amps and percussion far more precise. Nice to see Samson thought of the needs of musicians rather than putting all focus on podcasters.
Most noticeable at the front is a large headphone volume dial with a mute switch in its center. Just above is the intelligent LED light: when connected it glows blue and when muted it's amber. The mini-USB port and 1/8" headphone jack are positioned at the rear.
Most companies have remained pretty hush-hush about the size of condenser diagraph inside the casing.  As a rule of thumb, the bigger the diagraph, the bigger the soundstage it can capture. Samson claims the Meteor Mic has one of the largest condenser diaphragms (25mm) of any USB mic available.
Sound quality is crisp, articulate and quite full bodied when recording male voiceovers. This is rare as many USB mics are lacking in bottom-end that can be picked up.
The most common pickup pattern is possible: cardioid. This means it captures sound from in front of the mic and rejects noise coming from the back. In this regard the Snowball has a leg up on the Meteor as it gives you a choice of three patterns for around the same price.
The Verdict
Those that want something highly portable but not too tiny when set up, this is a nice compromise between a desktop mic like the Blue Yeti and the super compact Samson Go Mic.
The sound has a rich character considering it's low price tag. The retro chrome body is a little quaint and not as rugged as something like the pricier Apogee MiC, but for under $70 few could find much reason to complain.