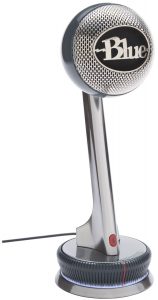 The designers at Blue are experts at injecting cool-factor into their mics. And they've really topped themselves with the future-retro styled Nessie. Like the fabled sea beast of Loch Ness, it has an intriguing angled neck worth admiring.
It's not done this way just for the sake of aesthetics. It's a very practical design.
The "head" of the mic can be tilted for a myriad of applications such as instrument micing and capturing overhead ambience. Like other Blue products it has
Blue calls it's headphone output "zero-latency" and I found it too indeed to be very responsive and without noticeable delay. The headphone input is hidden away at the back, directly above the mini-USB port.
The base of the Nessie is a giant headphone volume dial. Just above that is a large mute button. While handy and absent from many competing mics, due to the position and size it may be prone to accidental activation.
To eliminate extra time setting up, the pop filter and shockmount is built right into the mic. This is a huge plus for recording on location and helpful to beginners as there are two less items of concern to think about.
Unique Audio Processing Settings
Nessie's three recording modes are different from the standard polar pattern switching you might expect. It sticks with the cardioid pattern and tunes the sound for the application. One position is optimized for rich vocals, another for detailed instruments, and a raw audio option is there for experienced producers who prefer to make adjustments in post-production.
This is an interesting step toward allowing the hardware to get the right sound, rather than expecting users to find the right EQ curve via software. If you're a beginner when it comes to recording, this is welcome, but experienced individuals may prefer the more advanced setup the Yeti provides, with it's three polar patterns.
The Sound
The sound may not rival vintage tube mics but it's definitely more than good enough for podcasting and recording demo music tracks. In the right hands you could make a hit record with the Nessie. Onboard audio processing does help achieve a serviceable voiceover sound but I prefer the Yeti for this. The real strength of the Nessie is capturing instruments and female vocals because of the character of the small capsule condenser inside.
The Verdict
This is a great choice for budding musicians but it didn't quite cut it for a deep male radio voice. The Nessie makes it difficult to capitalize on the proximity effect, which is speaking very close to the mic for a bass-rich sound.
The swivelling head allows for some creative positioning options, which the Yeti and Snowball cannot do, so beside the uber-cool design this is what makes the Nessie stand out.