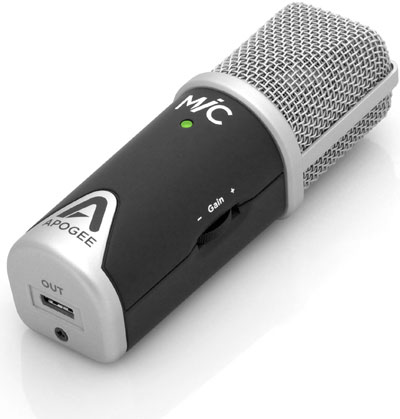 A common complaint about USB microphones is that most only do 16-bit/44.1 KHz recording. This is CD quality and ample for streamed content. However, when working with the Blue Yeti I often found myself eyeballing cases containing XLR mics and my Apogee Duet, lusting for 24-bit goodness.
Blue addressed this urge for high-definition audio by releasing the Yeti Pro. And Apogee has stepped up with the MiC 96k, a revision to the original MiC.
The MiC 96k and MiC look identical on the outside. The differences are of course internal and on the spec sheet. Both allow you to record on your Mac, iPad, iPhone or iPod Touch. Like the name implies the Mic 96k allows you to set sample rates all the way up to 24-bit/96kHz.
Some may be irritated that Apogee excludes Windows users but I see it as an advantage. This means their software people can focus all their attention on iOS and Mac OS X, rather than spreading themselves too thin and falling behind as new OS updates come out.
Mini MiC
I was surprised how tiny this microphone is. It measures 4.56" (115.8mm) tall x 1.52" (38.60mm) wide. It is dwarfed by the Blue Yeti, which measures almost 12" tall.
Despite it's stature this is a USB mic worth taking seriously. It features a road-worthy all metal construction.
The Sound
Beyond the pro level sample rates it is also equipped with Apogee's highly regarded preamp and converter technology. Sound quality is excellent and may even surprise gear snob producers that trash talk about cheap USB mics. Experienced ears should hear a clear boost in depth when switching from 16 to 24-bit. The small size does have some tradeoffs in the sound department as expected. Due to the form factor Apogee had to use a small capsule; it sounds good but the impressively huge sound of a large diaphragm condenser mic will defiantly not be replaced by it.
Features
Functionality is simple and stripped down although if offers more hardware-based control than the basic Audio-Technica offerings. Those that prefer hardware controls will like this gain control dial on the side. This gives you up to 40 dB of gain.
The indicator light is unique and a pretty nifty detail. This lets you know if the device is ready to record or if the gain is set too high and the signal is clipping. For podcasters and musicians that record themselves, the red status light to denote clipping is useful indeed. And thanks to the dial you can quickly make adjustments without having to touch your Apple device.
One disadvantage to this mic is the lack of different polar patterns. It is configured to record directly in front of the mic (cardioid) only. While this is fine for the vast majority of applications it's fun to experiment with omnidirectional and bi-directional settings. Blue products give you the ability to do this, even with the modest Snowball.
Review Verdict
This could be the perfect mic for doing high-quality field recordings with an iPhone.
If you need an extremely portable mic that does 24-bit the choice at this point is a no-brainer. This is the only microphone out there that checks these two boxes.