Apple's iPad and iPhone are now recognized as serious audio production tools. Now that iOS devices have able, multicore processors the trend is only expected to gain momentum.
Top microphone manufacturers such as Blue, Apogee and Samson have jumped onboard; and quick changes from Apple have made it hard to keep up. At present you need a Lightning adapter to use an iPhone 5 or 4th generation iPad with any of the mics listed. While not perfect, it sure beats lugging a laptop around.
Apogee MiC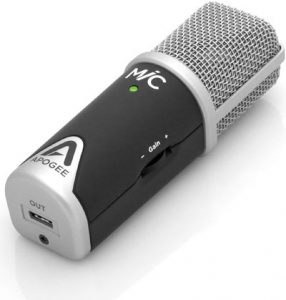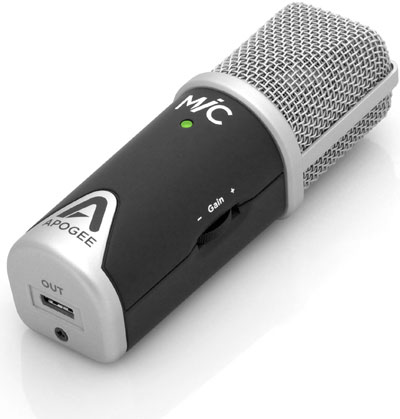 Like all Apogee products, MiC is exclusively made for Mac and iOS devices. This specialization has so far meant drivers and software work seamlessly with Apple's gear.
The big advantage this has over the others is 44.1/48kHz 24-bit analog to digital converters. This means studio quality sample rates rather than just CD quality sound. Nearly all other USB mics are presently 16-bit. While this is fine for YouTube videos and streaming, it makes sense to archive in hi-res and sample down if the content will be relevant in the future.
Blue Spark Digital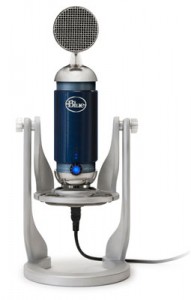 While Apogee is known for great audio converters and software, Blue is known for their great XLR and USB microphones.
SOS praised the Spark for its "no‑nonsense, not overly‑coloured sound, robust low-end and capable vocal handling." As expected the Spark Digital takes these qualities and adds direct compatibility with hi-tech devices.
Some have complained about how USB mics tend to have a cheaper feel then their traditional, XLR counterparts. This definitely isn't the case with the Spark Digital as its brother is analog, and components were added to bring it into the digital realm.
Samson Meteor Mic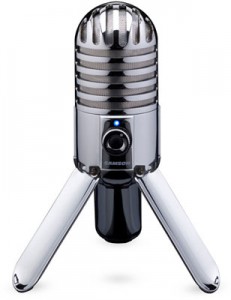 Not only does the Meteor Mic have vintage cool factor but it's also a very good value. If you're doing rough recordings, or doing podcasting rather than music, this may be enough for your needs. It's a good desktop PC mic to boot.
The Meteor records 16-bit audio at 44.1/48kHz resolution, which is currently the standard. While the sound quality doesn't match that of the the MiC or Spark Digital, its a fraction of the price.
If you're just getting started and aren't sure if you're going to stick to making audio recordings the Meteor provides a starting point.
Apogee ONE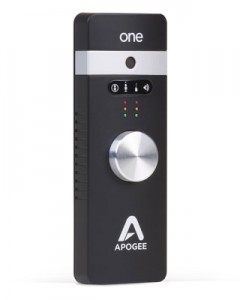 This is more than a mic; it's also an audio interface. If you're a musician that could use an all-in-one device for travel or recording on location the ONE is definitely worth considering.
It's amazing that they've managed to pack so much functionality into such a small package. Although I was skeptical about the built-in mic due to the size, it turned out to be as good as a full-size, inexpensive microphone such as the MXL 2001.
The downside is ONE has a reputation for being fragile. This is a concern if you travel and it's recommended that you ensure there is plenty of padding around it in your bag.
Blue Mikey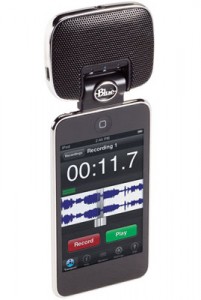 Mikey stands out from the rest because it connects directly to the iPad/iPhone connector. This is an advantage and disadvantage depending on how you look at it. If you're a reporter type that needs to move around this solution beats all others. The downside is you need a Lightning adapter and this makes it tough on the Lightning or 30-pin port.
It won't replace a condenser mic in terms of quality but Mikey is good to have in your audio toolkit for certain applications.
FiRe 2 software is great and features automatic compression so it balances very loud and quiet sounds on the fly. This can make the Mikey very handy for recording loud band rehearsals or concerts.
Overall it's a cool solution that turns and iPad/iPhone into a field recorder.