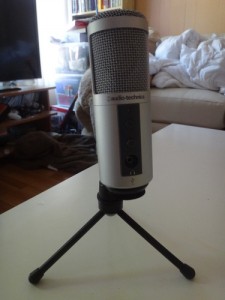 I've often recommended the ATR2020-USB as an alternative to the highly regarded Blue Yeti. As basic as it is in terms of functionality (just one polar pattern) and hardware controls (there are none), for some users and circumstances a simple solution with rock-solid build quality trumps all.
More recently Audio-Technica has released the ATR2500-USB. It still has the quality feel and great sound of the 2020, however Audio-Technica has added features so it better competes with top offerings from Blue and Samson.
The finish, though sporting a luscious silver sheen in promo shots is actually matte (see comparisons HERE). Adding to the unassuming appearance, the cylindrical exterior is the similar to a slew of other Audio-Technica mics, both XLR and USB. Audio-Technica knows what works and sticks to what does rather than attempting to wow you like Blue.
Most notably there is now a headphone jack at the front so now you can do real-time monitoring rather than relying on your native soundcard output with less than ideal latency. The buttons with arrows pointing up and down respectively control the volume of the headphones. These additions are the biggest selling point of the 2500 over the 2020.
Arguably Audio-Technica has only gone halfway with the hands-on controls (compared to the Yeti benchmark). While it's handy to have headphone level buttons at your fingertips you'll still need to adjust the mic gain level via software. From a design philosophy perspective this awkwardly sits at the middle ground; although the headphone functionally is welcome it would be more intuitive to either focus on real knobs and buttons or leave it all up to well-presented software.
Like it's older brother the 2020, the ATR2500-USB features just the meat and potatoes cardioid polar pattern, making it ideal for podcasting, voiceovers, and home studio work. While it's nice to have the option to do omnidirectional recordings for room ambiance or to capture the several people on-the-fly, Audio-Technica knows most people won't need it at all, and others rarely.
Included in the box is a USB cable, manual, and mounting hardware so you can have it freestanding on your desk. The stand you get is a cheap plastic affair, which is to be expected in this price bracket. Likely you'll want to upgrade to a solid desk stand right out of the gate since they can be picked up for less than $15.
Sound quality is crisp, and well defined for the price as we've come to expect from Audio-Technica's offerings. Zero-latency monitoring gives musicians in particular a huge advantage; singing or playing detailed parts is obviously much easier when delay, no matter how subtle, is eliminated.
Overall the ATR2500-USB is one of the best USB mics currently available, knocking its predecessor the 2020 out of the running. The lack of a gain control and non-switchable polar patterns keeps it from topping the Yeti.