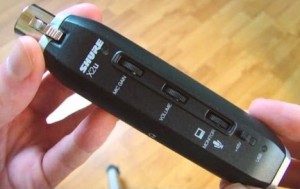 Shure has taken a much different approach to XLR to USB conversion than its nearest competitor, the Blue Icicle.
While the Icicle relies solely on software for adjustments, the S2U is surprisingly feature-rich for such a compact device with thumb dial controls for gain, volume and monitor level.
Arguably, even handier is the 1/8" headphone output at the side of its cylindrical housing. This allows you to monitor recordings in real-time and bypasses your computer soundcard. In practice this is helpful because you don't feel chained to your computer while wearing headphones as you can place the X2U anywhere a XLR cable allows.
As one would expect it provides +48V Phantom power for use with condenser microphones. The Phantom power button with corresponding blue indicator light is a nice touch as is the green light to show you the USB connection is functional.
Build quality is excellent despite the somewhat unassuming appearance in photos. It's of a formidable weight for such a small device. While this makes it roadworthy, you need to conscious of this factor when hooking it up. Although you can plug the X2U directly into a XLR mic sans the XLR cable, I wouldn't recommend it as this creates unnecessary strain on the connectors.
The sample rate is 16-bit, up to a 48 KHz. Overall sound quality is transparent and clean, as you'd expect from Shure. One weakness is you'll need to tweak hardware gain and volume levels along with software volume to get the lowest noise floor possible. If you don't like adjusting dials and don't require this level of control, the Icicle may be a better option.
The box includes a padded pouch and USB cable so if you don't have any XLR cables kicking around, I recommend that you pick one up.
Overall the Shure X2U is a good device to have in one's audio toolkit. Those who don't have a pro audio interface will appreciate the comprehensive controls. For the audio buff that has everything, it may defeat the purpose, as the extra control will be more of a distraction than a big help with a multi-microphone setup.