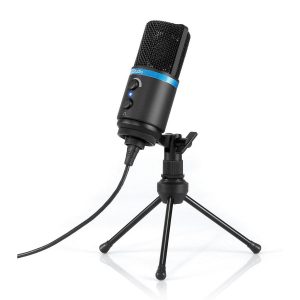 Best known for excellent music production software like Amplitube and SampleTank, IK Multimedia has been building their line-up of affordable audio hardware similar to Apogee's entry-level offerings.
Like the Apogee MiC 96k, iRig Mic Studio may be small in stature but it's a serious tool aimed at musicians on the go and podcasters.
It can't reach sample rates of 96kHz like the Apogee, however it's priced lower and can record 24-bit up to 48kHz. Many professional recording studios don't use sample rates any higher than 48kHz, so this is plenty for the budding musician or podcaster recording at home. At one time 24-bit was only available in the priciest USB mics to it's encouraging to see technology advanced to the point IK Multimedia can offer it at such a low price point.
IK Multimedia is emphasing it's 133dB SPL rating. This means you can record anything from a whispering voice to cranked guitar amps and snare drums.
Frequency response is rated at 20Hz to 20kHz. Sound quality is good with clear slightly exaggerated top-end, which makes it good for recording vocals.
The mic's design is simple and sleek. On the front there are two knobs: one for recording gain and the other for headphone monitoring volume. There is a 3.5mm/1/8" jack on the back for connecting headphones.