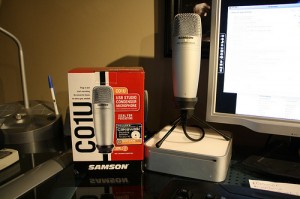 The Samson CO1U is a staple in the podcaster's arsenal. Since it's been out for several years it has been thoroughly time-tested. Often experienced podcasters recommend it due to its reliable track record and performance. For many, this is the first USB microphone they've ever owned. There is an urge in technophiles like myself to always look to the latest, assuming it is the greatest. I'm admittedly late to the C01U party but felt the need to review it. Clearly, this mic is still relevant and will be for years to come.
This model looks like a condenser mic should. Visually it is almost identical to its brother, the CO1. The only difference is the CO1U has a silver grill instead of black, and of course it has a USB connector instead of analog XLR. Hard knobs and switches aren't necessary due to downloadable SoftPre software, which allows you to set gain levels, cut lows, etc.
The differences are far greater on the inside. The engineers at Samson managed to squeeze a micro USB interface inside the CO1U.
Sampling rates range from 8 to 48 KHz at 16-bit resolution. This falls in line with the current generation of USB mics, with the exception of the Yeti Pro which does 24-bit recording.
Frequency Response is 20 – 18000 HZ. To test this range in the real world, I busted out the acoustic drum kit. It was able to capture the lowest thuds from the bass drum accurately, as well as the high-end sizzle from cymbals. The sound quality is natural rather than hyped, which is good news for purists and tweakers alike. The unique bass roll off control comes in handy for overly boomy-sounding voices or instruments. Beginners or podcasters that want quick, effective solutions should be using this often.
Sensitively is great, maybe a little too good if you have loud fans in your computer or live near an airport. Although this is a cardioid pattern mic, it has a tendency to pick up more than expected.
Flexibility is a weakness for the C01U. Unlike competing mics from Blue, it has a cardioid pattern only. If you plan on doing traditional voiceover work or recording lead vocals, this shouldn't concern you much. Experimental types that want to capture the ambiance in the room or record an interview with only one mic need to look at the Yeti or Snowball instead.
If you don't have recording software and don't feeling like forking over a wad of cash, you're in luck. The CO1U offers the advantage of free bundled software: Cakewalk Sonar LE. Unfortunately this benefits Windows users only. The software for the CO1U is Mac-friendly, but Sonar LE is not. If you're totally new to podcasting or recording, Sonar is one of the better applications to learn.
Review Verdict
Samson's CO1U came out at a time when there were few USB mics to choose from. Since then, Blue and Audio-Technica have come on the scene with some great offerings. I can definitely see why proud owners of this mic recommend it to friends, but I feel there are better options.
For those buying today, either a Blue Yeti or Audio-Technica AT2020 are the best moderately-priced USB mics going. You may want to grab the CO1U regardless, if the price is right; especially if you want to get your hands on Sonar LE software for free.